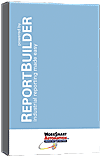 ReportBuilder™ Base Package provides everything you need to build and run reports for data logged to a relational database like  Microsoft Access,  SQL Server, and MySQL.  You can use this package with any SCADA HMI package that can be configured to log to one or both of these database systems! For example: RSView  and FactoryTalk by Rockwell Automation,  and Cimplicity by GE Fanuc can be configured to log data to these relational database products.
The ReportBuilder™ base package includes ReportBuilder™ Server for building and configuring your reporting project; and ReportBuilder™ Client, an extremely user-friendly Excel Add-In  that adds new menus, toolbars, and windows to Microsoft Excel.
The ReportBuilder™ base can be used to report data from the following SCADA / HMI without any additional connectors or FunctionPacks:
Wonderware Historian
GE Historian
ClearSCADA
FactoryTalk logging to ODBC log tables
RSView32 logging to ODBC log tables
Any one of these relatational databases

Microsoft Access
Microsoft SQL Server
MySQL
Functions and Features you are sure to appreciate:
Support to automatically import tags from an Excel workbook or directly from the historian where supported.
Build reports from multiple data sources. You can present data within the same report from one or more databases.
Run reports for custom report spans by simply picking the date from a drop-down calendar, or set it to run at a predefined interval so that it always reports for the previous day, week, month, etc.
Share your reports across the enterprise automatically to:

web page,
or a new Excel Workbook.

Easily build reports that can be re-used from project to project when you make use of ReportBuilder™ tag functions to display data-point descriptions and engineering units.
Get specific values and times by using the ReportBuilder™ Time functions for returning time related information like the number of days in the month, the first date in a quarter, the last day of the month, and many others.
Buy Now



Base Package

Add 4 Additional Client Licenses
Buy Now



Add 4 Client Licenses