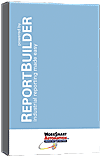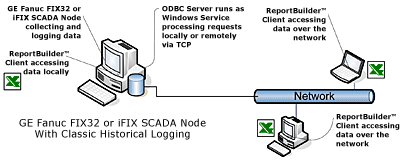 ReportBuilder™ with ODBC Connector pack for FIX32 and iFIX is designed to work with FIX32 and iFIX SCADA HMI systems configured to log data to the HMI historical log files (.H04, .H08, or .H24 files). When classic historical logging is enabled, FIX32 and iFIX will create log files every four, eight or twenty-four hours. These files are created with filenames that correspond to the date they were created followed by an ".H04, .H08, or .H24″filename extension.
The ODBC server runs as a Windows service on the FIX32 or iFIX SCADA node that is logging data. It processes requests for data either locally or over the network from a ReportBuilder™ Client workbook report. The ODBC driver is installed on the same machine that runs ReportBuilder™ Client. Together, these parts form a robust and powerful reporting solution when reporting data from a FIX32 or iFIX SCADA node.
This system is easy to install. In fact, you can be up and running in about an hour. Best of all, if your FIX32 or iFIX SCADA HMI system has been collecting data, you can build and run reports as far back as the first day data collection started!
Functions and Features you are sure to appreciate:
Report for data with user defined evenly spaced data intervals with filtering and sorting options.
Return Data with specific modes including: (Sample, Maximum, Minimum, and Average)
Return specific aggregate and computed values like:

Maximum & time of occurrence
Minimum & time of occurrence
Average
Count
Sum
First value & time of occurrence
Last value & time of occurrence
List time stamped values with evenly spaced data
Advantages:
Build and run reports since the data was collected.
Automate existing Microsoft Excel workbooks.
Streamline integration by avoiding logging to an external database.
Reports from the same data that historical FIX32 and iFIX trending use.
No programming required
Multiple users can access data over the network, freeing up the SCADA machine for SCADA.
| | |
| --- | --- |
| Buy Now | |